The harsh truths of fancy technology versus monetising fancy technology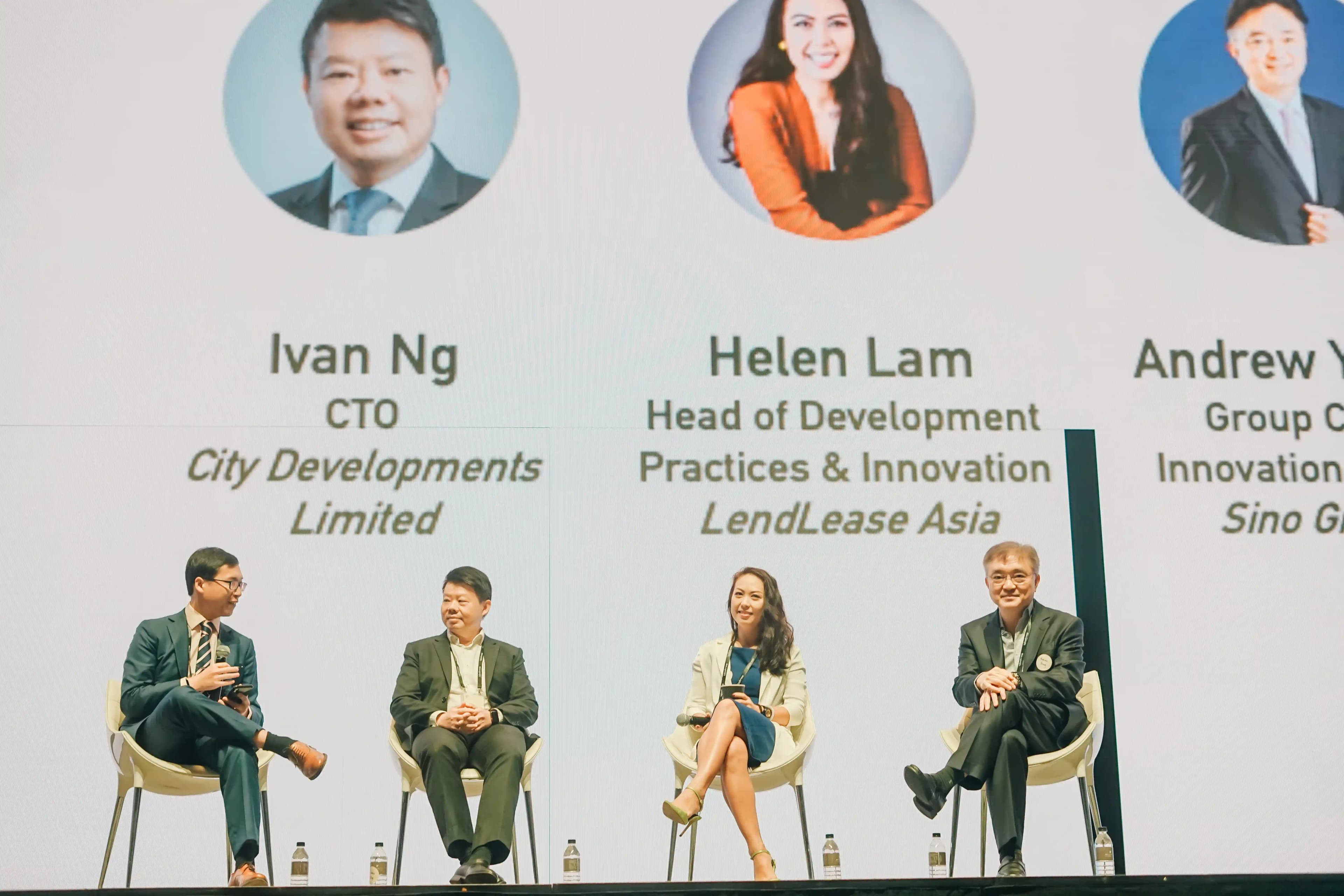 Held on 30 August 2019 at JW Marriott South Beach, the Singapore Smart Cities Summit saw over 350 participants from the region and beyond coming together to accelerate smart cities innovation and initiatives. Corporate innovators, industry disruptors, investors and startups from 18 countries which include the US, UK, Philippines, Mexico, Swaziland, among others took part in the summit.
Organized by igloohome, the summit featured over 30 panellists ranging from CEOs, scientists, investors, corporate innovators and journalists. They shared insights covering sustainability, smart city trends, issues and more in the one-day event.
In this panel, we had Ivan Ng, CTO at City Developments Limited; Helen Lam, Asia Head of Developmental Practices & Innovation at Lendlease Group; and Andrew Young, Group Chief Innovation Officer at Sino share about the harsh truths of fancy technologies and monetizing them. Moderated by Bloomberg's journalist, David Ramli, we've extracted key learnings from their session.
David: Helen, you've come across a ton of tech and innovation. How much of that will ever turn into a profit?
Helen: When you talk about technology and innovation, how much value are you actually targeting?
There's no black and white answer when it comes to this. You have to make an investment and curate what business problem you're tackling. We don't target huge profits from these investments, at the end of the day, you're never going to disrupt yourself or see the value in the long-term if you're just looking at profits.
David: On that note, does anyone ever make a property rental decision based on something like a smart lock?
Ivan: If I were a home-buyer, I wouldn't buy it just because it's a smart home. The fact that you have good technology is not just about home automation; it's the fact that you can easily do something - buying groceries, booking facilities - it shows that you're forward-thinking and it's not something you can immediately associate with a dollar figure.
But as a company, we want to make sure that there is top-of-mind when people think about which brand to go with. A home purchase is a big amount, no matter which country you're from.
We look at technologies that will help us give assurance, we're thinking ahead for the buyer, so they're not going to be in a place where everything's falling apart and it's an area that we can appreciate.
Helen: It's not always about ROI, you need to make sure that you're still relevant and that you have competitive advantage. It's about how you maintain relevancy as a company and as a brand.
David: That's a good point. When it comes to monetising tech, what's your top question when you're speaking with startups?
Andrew: When I look at a startup, I look at the different dimensions - will the tech impede our current operations, what the payback is, what the ROI is; my colleagues will ask if it reduces costs, increases efficiencies and I think those are still the top questions.
But more so, I'm looking into the next level of tech in the next 2 - 3 years. Take a look at robot butlers in hotels, these used to be US$30K to US$40K but are now priced at US$10K as costs come down. We're looking for the kind of tech that will bring costs down, and it'll become a no-brainer to adopt - so from the investment side, I'm usually on the lookout for tech that could make solutions become much more affordable and make more sense instead of just purely focusing on the ROI.
I also look at the startups' EQ. How they interact with customers, how they sell, can they target the deal, can they deliver? These are the factors that we look at when we're deciding to invest.
Ivan: We operate in 29 countries, so part of the consideration is how we can scale the technology to other parts of the world. Another thing I look out for is the team - their tenacity and the ability to be very commercial.
As a startup, your ROI doesn't come quickly. It takes a long time before people start recognizing your technology. I want to find startups like that, before they become expensive to invest in.
David: I want you to imagine you're on a panel, there's a 6-8 year old whiz kid, who has a start-up idea, what's the first thing you would ask him to figure out if he was going to make it? whats the key question?
Helen: What are the key problems he's trying to resolve? Who is his customer? If he's smart enough, I'll employ him tomorrow.
David: Lendlease has one of the most tech-savvy clients in the world - so does Google or Microsoft decide to make a lease on a building based on something like smart lighting, smart air-conditioning? Or do they come in at the same angle as other clients?
Helen: You don't need to convince Google to invest in technology, they can see the benefits and there's no need for the ROI conversation.
The challenging ones are retailers because retail is hard. We administer agreements with all our partners that there is a green covenant that we want to manage and till this day, enforce respectfully.
You can't have a sustainable building as a common area where 70% of the efficiency or even 80-90%, you can't actually say that without the residents or retailers being sustainable or efficient. So when we talk about technology, it's more about how we actually build smart cities sustainably around urbanised areas for the future.
We do have recommendations and resources to say - with smart lighting you can save some money, if you put in energy needed and move into that - we'll help you, support you in terms of the value coming back and the savings.
When it comes to equipment in terms of F&B, 30% of our malls consists of F&B these days and that's a lot of equipment and energy, water and waste. We partner with them to ensure they're on the journey with us, it's an education process and we see it as a long-term investment.
David: In one sentence, what's the risk of not investing in technology?
Andrew: You'll be left behind.
Helen: You will not meet your customer needs.
Ivan: It'll affect your brand.
If you wish to be part of the Singapore Smart Cities Summit this year, visit smartcitiessummit.igloohome.co for more information or drop us an email at summit@igloohome.co.